How do you know if you're on track to meet your business goals?
Most people are looking at the data – but what data are you looking at? is it visually organized? Is it answering the right questions? – Proggio's Project Portfolio Has All The Right Answers!
Let's get familiarized with the various elements you see in front of you on the Portfolio page. From left to right, here are the important things to know:
Milestone: In the example below, 'Prototype' is the first milestone phase in project called 'First Project'. It has an arrow shape which indicates the length/duration of all activities that lead to milestone called 'Prototype' within the project plan of First Device.
Today Line: This dotted line shows you a dynamic line of the today line so you can easily know where you stand in each one of the projects within your portfolio.
Cross Project Dependency Connector: These dotted lines stretch between linked activities from across 2 different projects within your portfolio.
Target Date: Place flags on your portfolio time line to display significant promise dates / out comes of your project,
Filters: Use the above filters to display relevant projects according to Project Tags or Project Owner.
So now that we've covered the basic elements on the time line, lets review the Project Tracking and  Health Indicators below:
Tracking Indicators: Show you a summary of your total 'On Track' activities/tasks up to today. 100% means that all planned activities to date have been completed or they are on track as planned. Alternately 45% shows that progress is not doing as planned and we should investigate what causes this delay.
Budget Status: Proggio allows you to manage a precise project budget, taking into consideration planned labor expanses and additional operational expenses. Seeing the green 'OK' icon means that the project is within the planned expanse.
Total Activities: Gives an output of the total number of activities within your project along with a percentage of the completed activities.
Delayed Activities: Gives an output of all delayed activities within your project along with a percentage out of total activities in your project. These can be measured against your KPIs and guarantee that your project status remains on track through out it's life time.
A Good Picture Is All About Good Visual Ingredients
Portfolio view is what gives you the birds eye view into ongoing organizational endeavors, which allows you to measure success against organizational goals. HOW it shows this to you is incredibly important.
If your report isn't understandable, it doesn't actually tell you anything. It might have nice charts and graphics, but it doesn't communicate the main issue! A good portfolio view uses the visual presentation to give you information – and speaks the same visual "language" across multiple planes – your single project plans for instance or the resource management view in Proggio.
Take the following example, from Proggio:
In the above image, you see a list of company projects. These projects are presented over time, with milestones forming the different stages of the project, each contains a set of activities and tasks (which are not displayed on the high level view of the portfolio). Each project gets a score showing its overall health, allowing you to gauge its adherence to schedule and level of readiness.
Clicking any arrow will bring you to the project plan, which keeps the same "visual language" while providing more detail. Say you want to look into the "First Device" project. Click it to open it, and you see this: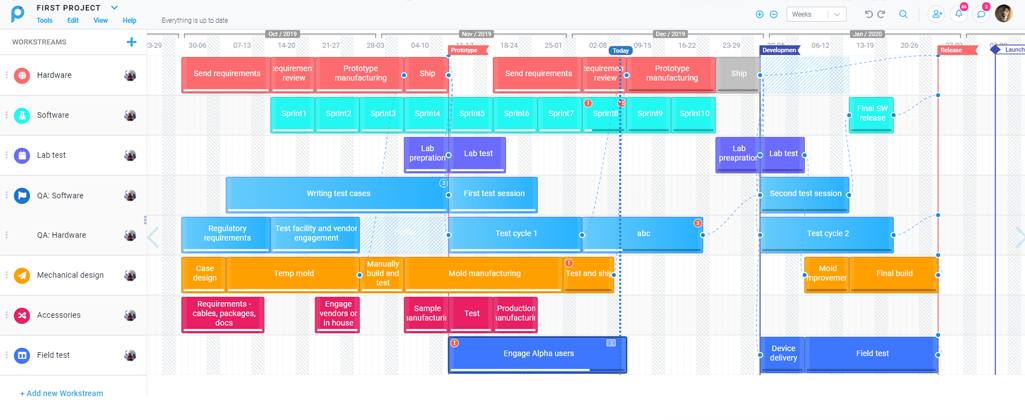 Now you have a more detailed view at the individual components of the project, its structure, and its progress.
Use the Split Screen Section for Multi-level Views: (Crucial For Clarity)
In the image below, we see an example of a quick overview of a single project plan on the bottom part of the screen. In this instance we clicked once on the 'Office Relocation' project which has the largest delay (or lowest progress %). Now we can easily check what are the activities causing this delay – All those marked with the red exclamation mark!
The visual connection between the two layers is critical for your level of understanding! You aren't going to be able to cram every detail into a bird's eye view, but you still need it at your fingertips for times where details matter.
Executive Summary: Meeting Business Goals With Portfolio View
The answer to "Are we set to meet our goals?" lies in a bird's eye view of organizational projects – the company's defined goals – and their progress
This bird's eye view must be backed up by real data, not a picture of information you've entered taken out of context
The visual representation needs to be multi-leveled, where the bird's eye view can zoom in to granular detail when needed
Are you a seasoned Project Manager? 
Learn more about Project Management here